Name: Russ
Location: France
Born: 1983
Activity: Mural, Painting, Drawing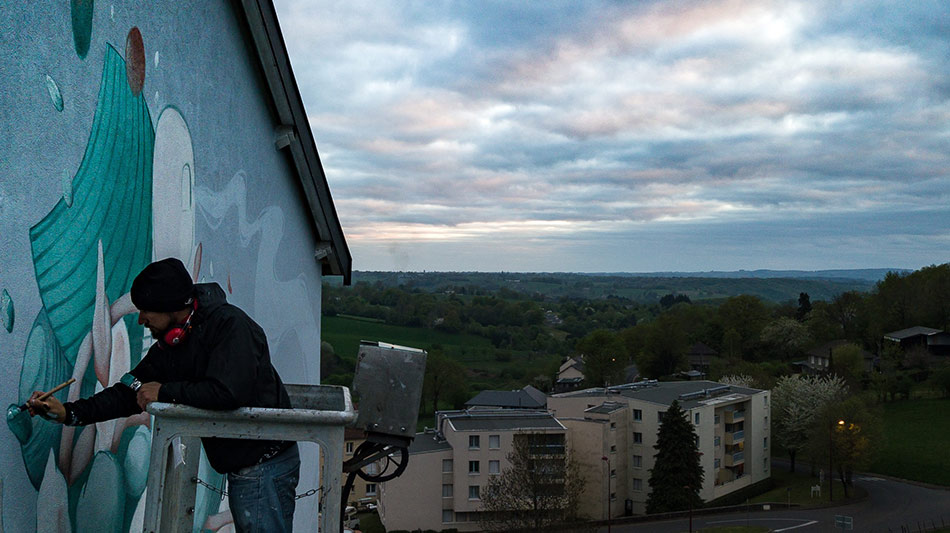 10e Art Festival / photo: Vincent Pietri
// Fr.
Observateur du monde vivant, Russ s'intéresse à l'évolution de la matière et de l'état à travers le temps.
Dans ce « vivant » au sens large (de l'atome à l'échelle cosmique) l'humain prend une place centrale et nous questionne sur la relation que nous entretenons avec notre environnement et par extension avec nous-même.
Ses dessins et peintures combinent plusieurs échelles d'observation, un monde en renfermant un autre et ainsi de suite, indéfiniment.
En résultent des compositions oniriques, parfois surréalistes, où des éléments végétaux, symboles des cycles de la vie, nous ancrent dans une réalité davantage perceptible.
De ses préoccupations ontologiques et autres divagations métaphysiques Russ a réalisé de nombreuses peintures murales.
Dans un contexte plus intimiste, ses productions d'atelier sont également visibles en galerie.
// Eng.
Observer of the living world, Russ is interested in the evolution of matter and state through time.
Within these living things (from the atom to the cosmic scale) the human takes a central place and questions us about the relation that we maintain with our environment and by extension with ourselves.
His drawings and paintings combine several scales of observation, one world enclosing another, and so on indefinitely.
The result is dreamlike compositions, sometimes surrealistic, where plant elements, symbols of the life cycles anchor us in a more perceptible reality.
From these ontological concerns and others metaphysical thought Russ has made many murals.
In a more intimate context, his studio productions are also visible in galleries.
// YEARS
EXHIBITIONS
FESTIVALS & MURAL PROJECTS
// 2020
RUSS solo show / Espace Contemporain d'Art Urbain (ECAU) – VESOUL (FR)
« Le Grand Musée » outdoor group show / AVIGNON (FR)
Permanent group show / Neo-House – TOKYO (JAPAN)
La Galerie Éphémère #8 installation-group show / VILLENEUVE-LES-MAGUELONE (FR)
Le MUR / VESOUL (FR)
Muralis Street Art Festival / DAX (FR)
Parcours Rimbaud / CHARLEVILLE-MÉZIÈRES (FR)
Transition Espace Éphémère / ABBEVILLE (FR)

// 2019
« Entre les Murs » group show / Atrium Culturel – DAX (FR)
« MÉTA » solo show / Galerie 36e Art – SAINT-DIE DES VOSGES (FR)
« En Substance » solo show / Maison de la Poésie – AVIGNON (FR)
« Aequographe » group show / La Brasserie Communale – MARSEILLE (FR)
Éternelles Crapules Festival / MOUTIERS (FR)
Expo de Ouf! #8 / NIMES (FR)
Waterford Walls Festival / WATERFORD (IRELAND)
Histoires Urbaines 2.0 Parcours / SAINT-DIE DES VOSGES (FR)
Tunnelvisie Project / EINDHOVEN (THE NETHERLANDS)
Le MUR / BOURGES (FR)
// 2018
« Plan A3 » group show / Hôtel Graffalgar – STRASBOURG (FR)
« Artyshop » group show / Place des Corps Saints – AVIGNON (FR)
« Âmes en Résonance » group show / Galerie Joseph – PARIS (FR)
« Russ » solo show / Médiathèque – MAURIAC (FR)
« Faune » group show / Sérigalerie – AMBILLY (FR)
Street Aix Project / AIX-EN-PROVENCE (FR)
L'Art & Vous – CSC La Provence / AIX-EN-PROVENCE (FR)
PrimArt « Mur Express » Festival / GENEVA (SWITZERLAND)
Loures Arte Publica Festival / LOURES (PORTUGAL)
10e Art Festival / MAURIAC (FR)
I Am Billy Festival / AMBILLY (FR)
// 2017
« Génération M » group show / Galerie L'Appartement – MARSEILLE (FR)
« Uchiwa – Bloom » group show / Grand Aquarium – PARIS (FR)
« Du Vin à l'Oeuvre – Vinochromie » group show / Caves du Louvre – PARIS (FR)
Underground Effect #3 – Urban Week Festival / PARIS-LA DÉFENSE (FR)
10e Art Festival / AURILLAC (FR)
Prenez Place(s) Festival / AVIGNON (FR)
// 2016
« Artyshop » group show / Rue Bonneterie – AVIGNON (FR)
« Spoutnik » group show / Galerie ArtEspace – PARIS (FR)
« A la Russe! » group show / Atelier Le Terrier – PARIS (FR)
« Summer Time » group show / Galerie Clémouchka – LYON (FR)
« Le Propos des Plantes » group show / Salle de la Providence – PAMIERS (FR)
Légendes Urbaines Festival / AIX-EN-PROVENCE (FR)
Expo de Ouf! #5 / NIMES (FR)
// 2015
« Artyshop » group show / Le Café-Lavoir – AVIGNON (FR)
« Editions Limitées » group show / Atelier Le Terrier – PARIS (FR)
Le MUR Oberkampf / PARIS (FR)
Aux Tableaux! / MARSEILLE (FR)
Mix'Art Project / SAINT-LOUIS (FR)
// 2014
« Empty Walls Exhibition » group show / The Abacus – CARDIFF (WALES)
« Salon Sans Nom » group show / Centre Culturel – SAINT-BRICE-SOUS-FORET (FR)
Noël Insolite / CARPENTRAS (FR)
The Bridge – La Voie est Libre / MONTREUIL (FR)
Festival des Canotiers – Ménilmontant / PARIS (FR)
Street Art Festival / MARSEILLE (FR)
Empty Walls Festival / CARDIFF (WALES)
// 2013
« Remember Ur Soviet Side » solo show / Atelier Juxtapoz – MARSEILLE (FR)
« Want 2 See? » group show / Hôtel Dieu – LYON (FR)
« Paper & Skin » group show / Contraseptik – STRASBOURG (FR)
« Pömz & Friends » group show / 42 rue Burdeau – LYON (FR)
« Venus » group show / Spacejunk Art Center – LYON (FR)
Cheminance Festival / FLEURY-LES-AUBRAIS (FR)
NL Contest / STRASBOURG (FR)
Le MUR / MARSEILLE (FR)
The Bridge – La Voie est Libre / MONTREUIL (FR)
Mix-City Jam #6 / VILLEURBANNE (FR)
Nuits Sonores Extra! / LYON (FR)
// 2012
« Graffiti – Street Art » group show & auction / Maison Aguttes – LYON (FR)
« Russ & Monsta » duo show / BackSide Gallery – MARSEILLE (FR)
« Street Art » group show & auction / Maison Leclere – MARSEILLE (FR)
« Brouillon » group show / EnjoyTed – LYON (FR)
« Rentrée des Classes » group show / Spacejunk Art Center – LYON (FR)
« Ecology » group show / Médiathèque – CHASSIEU (FR)
« Retrospective » solo show / Kanabeach store – MARSEILLE (FR)
Ebouelle Artwork Contest / LES GETS (FR)
Street Day – L'Original Festival / LYON (FR)
Nuits Sonores Extra! / LYON (FR)
Sans Conservateur – Festival Contre-Temps / STRASBOURG (FR)
Drop#2 / LAUSANNE (SWITZERLAND)
Graff-ik'Art Festival / LYON (FR)
The Bridge – La Voie est Libre / MONTREUIL (FR)
Mix-City Jam #5 / VILLEURBANNE (FR)
// 2011
« Russ » solo show / Laspid – LYON (FR)
« DUO » duo show–Russ & Monsta / 81 STORE – LYON (FR)
« Clock Your Vinyl » group show / Laspid – LYON (FR)
« Venus » group show / Spacejunk Art Center – LYON (FR)
« Oversized » group show / SuperPlan Gallery – BERLIN (GERMANY)
« Rue-Stick » group show / Museaav – NICE (FR)
Couleur Café Festival / BRUXELLES (BELGIUM)
Street Day – L'Original Festival / LYON (FR)
Art Battles / VITRY-SUR-SEINE (FR)
The Bridge – La Voie est Libre / MONTREUIL (FR)
La Mode au Musée Cantini / MARSEILLE (FR)
// 2010
« Street-Art » group show / Ligne Roset – STRASBOURG (FR)
 » Russ & Monsta  » duo show / Oogie – MARSEILLE (FR)
« Venus » group show / Spacejunk Art Center – LYON (FR)
« HotWheelz » group show / Quality Lovers Gallery – BERLIN (GERMANY)
« Keep Smiling Loser » group show / SuperPlan Gallery – BERLIN (GERMANY)
« Les Divagations Tunk » collective event / Toï Toï – VILLEURBANNE (FR)
« Post-Moderne » group show & auction / Maison Aguttes – LYON (FR)
Drop / LAUSANNE (SWITZERLAND)
Perffusion / LYON (FR)
Aux Bass Citoyens Festival / GRENOBLE (FR)
La Twall / STRASBOURG (FR)
Street Park Birthday – La Friche / MARSEILLE (FR)
// 2009
« toastconcept » group show / Urban Surfers – STRASBOURG (FR)
« toastconcept » group show / 81 Store – LYON (FR)
« toastconcept » group show / Iron Straw – LYON (FR)
« toastconcept » group show / L'Atelier des P'tits Papiers – LYON (FR)
Art Clash – Freitag Factory / ZÜRICH (SWITZERLAND)