Name: Russ
Location: France
Born: 1983
Activity: Mural, Painting, Drawing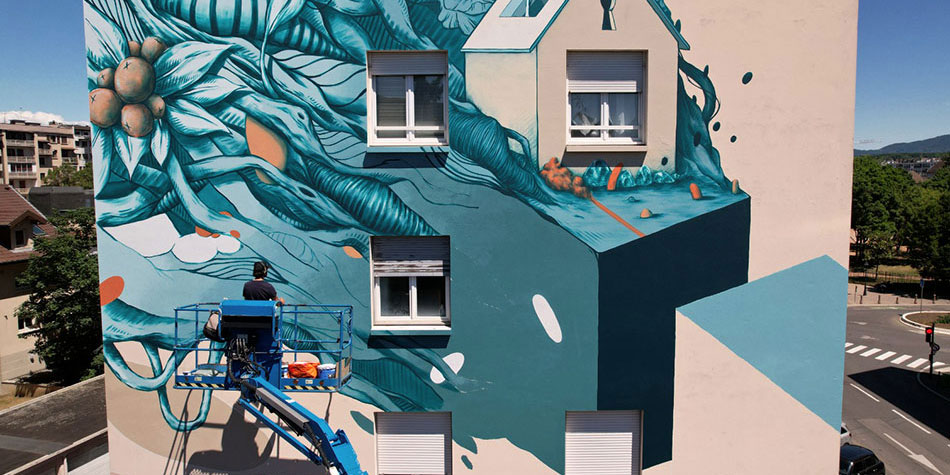 Annemasse Vibre Festival / photo: Fabrice Ravier
// Fr.
Telles des allégories du Temps qui passe, les oeuvres de Russ sont vivantes et en mouvement. La matière organique, omniprésente, y mute, évoluant vers d'autres états.
Ces « fragments temporels », mettent en évidence des sujets figuratifs autant que les éléments impalpables qui peuvent s'en dégager (air, énergie, flux, …) questionnant ainsi la perception de chacun quant à son environnement.
Au sein de ses dessins et peintures, l'artiste aborde également parfois les notions d'identité, d'habitat et de passages : transitions vers d'autres réalités.
Combinant plusieurs échelles d'observation, de l'atome à l'échelle cosmique, ses compositions fournies présentent des mondes imbriqués, souvent inspirés par la science et toujours teintés de poésie et de surréalisme.
Résolument onirique et mettant en évidence la matière constitutive de toute chose, le travail de Russ sollicite notre imaginaire et nous invite à prendre le temps.
De ses divagations métaphysiques Russ a réalisé de nombreuses peintures murales de grand format en extérieur, parcourant la France et l'Europe.
Dans un contexte plus intimiste, ses productions d'atelier sont régulièrement exposées en galerie.
// Eng.
Like allegories of Time passing, Russ's works are alive and in motion. Organic matter, omnipresent, mutates there, evolving towards other states.
These « temporal fragments » highlight figurative subjects as much as the impalpable elements that can emerge from them (air, energy, flow, etc.), thus questioning everyone's perception of their environment.
Within his drawings and paintings, the artist also sometimes deals with the notions of identity, habitat and passages: transitions to other realities.
Combining several observation scales, from the atom to the cosmic dimension, his luxuriant compositions present interlocking worlds, sometimes inspired by science and always tinged with poetry and surrealism.
Eminently dreamlike and showing the constituent material of everything, Russ' work appeals to our imagination and invites us to take time.
From his metaphysical ramblings, Russ has produced many large format outdoor murals, travelling across France and Europe.
In a more intimate context, his studio productions are also regularly exhibited in galleries.
// YEARS
EXHIBITIONS
FESTIVALS & MURAL PROJECTS
// 2022
International Contemporary Art Fair / Palais des Congrès – DIJON (FR)
« Street Art Experience » group show & auction / Actéon auction house – COMPIEGNE (FR)
« It's Street Art Time » group show by Urban Signature / PARIS (FR)
« Boards to be Solidaire » group show / Agnès B. gallery – PARIS (FR)
« Balek » group show / Wawi gallery – PARIS (FR)
« Transition Les Portes » group show / Abbaye – SAINT-RIQUIER (FR)
« Monochrome » group show by Urban Signature / PARIS (FR)
« Ce Qui Nous Lie » artist residency / Parenthèse – CHAMBON-LA-FORET (FR)
Urban mural / ANNONAY (FR)
Toiles Urbaines #4 – Urban Art en Gâtinais / MONTARGIS (FR)
DRAWDA festival / DROGHEDA (IRELAND)
Annemasse Vibre festival / ANNEMASSE (FR)
// 2021
« StreetArt Wonderland » group show by Urban Signature / Le Shack – PARIS (FR)
« Covers » group show by Galerie Fratello + Le Vinyle Club / PARIS (FR)
Parcours MIAOU en Cevennes / BESSEGES (FR)
Waterford Walls festival / TRAMORE (IRELAND)
Bakus festival – La Karrière / VILLARS-FONTAINE (FR)
Zoo Art Show XXL / LYON (FR)
// 2020
RUSS solo show / Espace Contemporain d'Art Urbain (ECAU) – VESOUL (FR)
« Le Grand Musée » outdoor group show / AVIGNON (FR)
Permanent group show / Neo-House – TOKYO (JAPAN)
La Galerie Éphémère #8 installation-group show / VILLENEUVE-LES-MAGUELONE (FR)
Le MUR / VESOUL (FR)
Muralis Street Art Festival / DAX (FR)
Parcours Rimbaud / CHARLEVILLE-MÉZIÈRES (FR)
Transition Espace Éphémère / ABBEVILLE (FR)

// 2019
« Entre les Murs » group show / Atrium Culturel – DAX (FR)
« MÉTA » solo show / Galerie 36e Art – SAINT-DIE DES VOSGES (FR)
« En Substance » solo show / Maison de la Poésie – AVIGNON (FR)
« Aequographe » group show / La Brasserie Communale – MARSEILLE (FR)
Éternelles Crapules Festival / MOUTIERS (FR)
Expo de Ouf! #8 / NIMES (FR)
Waterford Walls Festival / WATERFORD (IRELAND)
Histoires Urbaines 2.0 Parcours / SAINT-DIE DES VOSGES (FR)
Tunnelvisie Project / EINDHOVEN (THE NETHERLANDS)
Le MUR / BOURGES (FR)
// 2018
« Plan A3 » group show / Hôtel Graffalgar – STRASBOURG (FR)
« Artyshop » group show / Place des Corps Saints – AVIGNON (FR)
« Âmes en Résonance » group show / Galerie Joseph – PARIS (FR)
« Russ » solo show / Médiathèque – MAURIAC (FR)
« Faune » group show / Sérigalerie – AMBILLY (FR)
Street Aix Project / AIX-EN-PROVENCE (FR)
L'Art & Vous – CSC La Provence / AIX-EN-PROVENCE (FR)
PrimArt « Mur Express » Festival / GENEVA (SWITZERLAND)
Loures Arte Publica Festival / LOURES (PORTUGAL)
10e Art Festival / MAURIAC (FR)
I Am Billy Festival / AMBILLY (FR)
// 2017
« Génération M » group show / Galerie L'Appartement – MARSEILLE (FR)
« Uchiwa – Bloom » group show / Grand Aquarium – PARIS (FR)
« Du Vin à l'Oeuvre – Vinochromie » group show / Caves du Louvre – PARIS (FR)
Underground Effect #3 – Urban Week Festival / PARIS-LA DÉFENSE (FR)
10e Art Festival / AURILLAC (FR)
Prenez Place(s) Festival / AVIGNON (FR)
// 2016
« Artyshop » group show / Rue Bonneterie – AVIGNON (FR)
« Spoutnik » group show / Galerie ArtEspace – PARIS (FR)
« A la Russe! » group show / Atelier Le Terrier – PARIS (FR)
« Summer Time » group show / Galerie Clémouchka – LYON (FR)
« Le Propos des Plantes » group show / Salle de la Providence – PAMIERS (FR)
Légendes Urbaines Festival / AIX-EN-PROVENCE (FR)
Expo de Ouf! #5 / NIMES (FR)
// 2015
« Artyshop » group show / Le Café-Lavoir – AVIGNON (FR)
« Editions Limitées » group show / Atelier Le Terrier – PARIS (FR)
Le MUR Oberkampf / PARIS (FR)
Aux Tableaux! / MARSEILLE (FR)
Mix'Art Project / SAINT-LOUIS (FR)
// 2014
« Empty Walls Exhibition » group show / The Abacus – CARDIFF (WALES)
« Salon Sans Nom » group show / Centre Culturel – SAINT-BRICE-SOUS-FORET (FR)
Noël Insolite / CARPENTRAS (FR)
The Bridge – La Voie est Libre / MONTREUIL (FR)
Festival des Canotiers – Ménilmontant / PARIS (FR)
Street Art Festival / MARSEILLE (FR)
Empty Walls Festival / CARDIFF (WALES)
// 2013
« Remember Ur Soviet Side » solo show / Atelier Juxtapoz – MARSEILLE (FR)
« Want 2 See? » group show / Hôtel Dieu – LYON (FR)
« Paper & Skin » group show / Contraseptik – STRASBOURG (FR)
« Pömz & Friends » group show / 42 rue Burdeau – LYON (FR)
« Venus » group show / Spacejunk Art Center – LYON (FR)
Cheminance Festival / FLEURY-LES-AUBRAIS (FR)
NL Contest / STRASBOURG (FR)
Le MUR / MARSEILLE (FR)
The Bridge – La Voie est Libre / MONTREUIL (FR)
Mix-City Jam #6 / VILLEURBANNE (FR)
Nuits Sonores Extra! / LYON (FR)
// 2012
« Graffiti – Street Art » group show & auction / Maison Aguttes – LYON (FR)
« Russ & Monsta » duo show / BackSide Gallery – MARSEILLE (FR)
« Street Art » group show & auction / Maison Leclere – MARSEILLE (FR)
« Brouillon » group show / EnjoyTed – LYON (FR)
« Rentrée des Classes » group show / Spacejunk Art Center – LYON (FR)
« Ecology » group show / Médiathèque – CHASSIEU (FR)
« Retrospective » solo show / Kanabeach store – MARSEILLE (FR)
Ebouelle Artwork Contest / LES GETS (FR)
Street Day – L'Original Festival / LYON (FR)
Nuits Sonores Extra! / LYON (FR)
Sans Conservateur – Festival Contre-Temps / STRASBOURG (FR)
Drop#2 / LAUSANNE (SWITZERLAND)
Graff-ik'Art Festival / LYON (FR)
The Bridge – La Voie est Libre / MONTREUIL (FR)
Mix-City Jam #5 / VILLEURBANNE (FR)
// 2011
« Russ » solo show / Laspid – LYON (FR)
« DUO » duo show–Russ & Monsta / 81 STORE – LYON (FR)
« Clock Your Vinyl » group show / Laspid – LYON (FR)
« Venus » group show / Spacejunk Art Center – LYON (FR)
« Oversized » group show / SuperPlan Gallery – BERLIN (GERMANY)
« Rue-Stick » group show / Museaav – NICE (FR)
Couleur Café Festival / BRUXELLES (BELGIUM)
Street Day – L'Original Festival / LYON (FR)
Art Battles / VITRY-SUR-SEINE (FR)
The Bridge – La Voie est Libre / MONTREUIL (FR)
La Mode au Musée Cantini / MARSEILLE (FR)
// 2010
« Street-Art » group show / Ligne Roset – STRASBOURG (FR)
 » Russ & Monsta  » duo show / Oogie – MARSEILLE (FR)
« Venus » group show / Spacejunk Art Center – LYON (FR)
« HotWheelz » group show / Quality Lovers Gallery – BERLIN (GERMANY)
« Keep Smiling Loser » group show / SuperPlan Gallery – BERLIN (GERMANY)
« Les Divagations Tunk » collective event / Toï Toï – VILLEURBANNE (FR)
« Post-Moderne » group show & auction / Maison Aguttes – LYON (FR)
Drop / LAUSANNE (SWITZERLAND)
Perffusion / LYON (FR)
Aux Bass Citoyens Festival / GRENOBLE (FR)
La Twall / STRASBOURG (FR)
Street Park Birthday – La Friche / MARSEILLE (FR)
// 2009
« toastconcept » group show / Urban Surfers – STRASBOURG (FR)
« toastconcept » group show / 81 Store – LYON (FR)
« toastconcept » group show / Iron Straw – LYON (FR)
« toastconcept » group show / L'Atelier des P'tits Papiers – LYON (FR)
Art Clash – Freitag Factory / ZÜRICH (SWITZERLAND)